Our Founding in 1964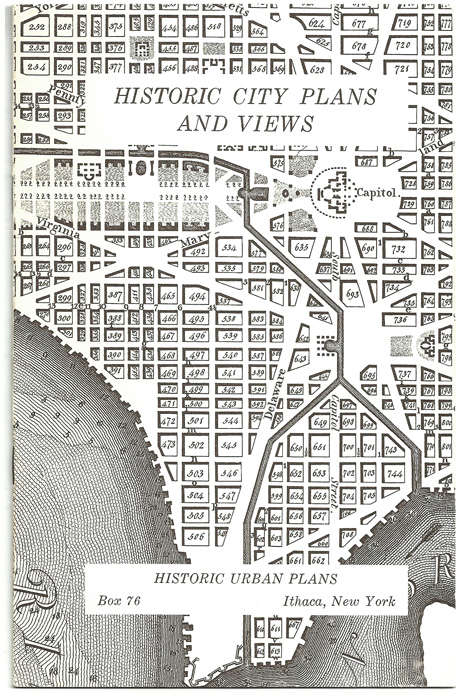 When Professor John Reps was researching his landmark book about the history of city planning, The Making of Urban America (Princeton University Press, 1965), he found that most original antique maps were held by libraries and archives, but some were in the hands of rare book and print dealers for increasingly higher prices. Few facsimiles were available for study and enjoyment by city planners, scholars, geographers, librarians, novice collectors and the general public.
He resolved to see if publishing facsimiles would be commercially successful, beginning with six plans and views, ranging from Matthew Merian's 1620 plan-view of Paris to Thackara and Vallance's famous 1792 engraving of the new capital city, Washington, D.C. A small catalog illustrating and describing these maps was sent to college and university libraries, city planning offices, and fellow academics in November 1964. A detail of the Washington, D.C. plan was used to illustrate the front cover of the catalog (illustrated above).
Enough orders were received to make it possible to add another dozen or so maps for a second catalog and to expand the mailing list. By 1970, more than 300 titles were made available, approximately two-thirds of which were North American subjects.
Today, Historic Urban Plans offers over 400 titles and sells through a website instead of a catalog. Whatever the medium, our maps, plans and views are still faithful representations of rare originals significant in the history of urban development, exploration and discovery. The prices of antique maps – and some "vintage" titles – have skyrocketed within the past decade, making our high quality, reasonably priced facsimiles even more attractive to anyone interested in cartography, geography, design, genealogy and history.
Browse our catalog and purchase for yourself or as a gift for a friend or colleague. We know you will be delighted by anything you select.